A Flanders gown with woolen kirtle
This is a version of what Janet Arnold calls a "Flanders gown," many examples of which can be found in the portraits of Hans Eworth.
It is of black wool with a black velvet collar and black velvet guarding at center front, hem, armscyes, and sleeves and fastens with silver
wire hooks and eyes at center front. The bodice is underlined with aida cloth but has no boning, as the corset provides support. The gown is lined with black linen.
The front of the kirtle is of a mulberry and brown changeable wool, while the back is of black linen. The kirtle laces
up the back, and the sleeves lace on. The sleeves are cut in two pieces and have soutache covering the seams.
The sleeves of the overgown were the most difficult part of this ensemble. Below you can see the stages of construction.
First, the pieces cut of aida cloth and sewn together...
Then boning sewn along each seam and down the center of the two middle panels so the sleeves wouldn't collapse vertically
and thin cotton batting padstitched inside so the sleeves wouldn't collapse horizontally...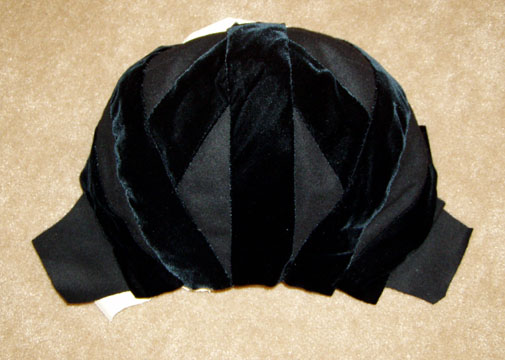 And finally the woolen outer layer assembled, the velvet guarding applied, and the whole laid over the understructure and sewn in place.